Website Build & Custom E-Commerce Solution for
Ilegal Mezcal
Founded in 2004, Ilegal Mezcal is a modern spirit brand which found its start by smuggling mezcal from Mexico to the iconic Café No Sé in Antigua, Guatemala. With their U.S. Headquarters established in Brooklyn, Ilegal approached us in the fall of 2018 to help them update their website, which was created in 2011.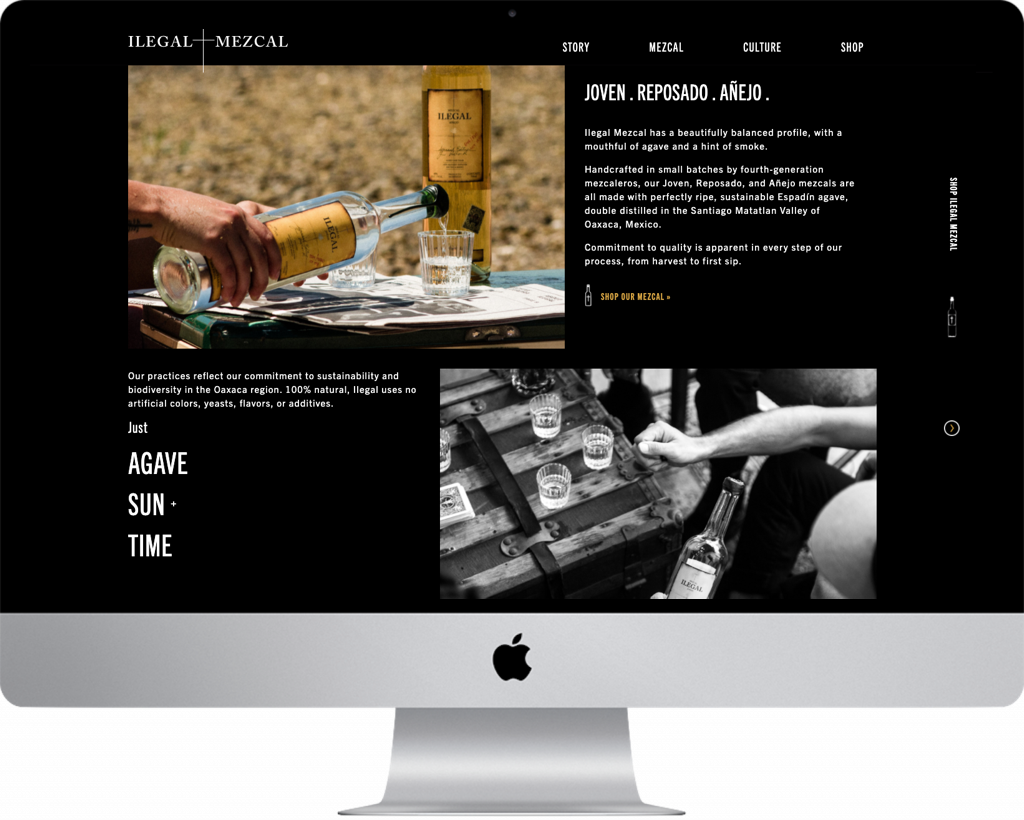 Ilegal's previous Squarespace build satisfied their need, early on, to have an easy-to-build website that could showcase the various facets of their brand. But after seven years of adding content and information to a site with no templating capabilities, the website had grown unruly and disorganized. Squarespace simply could not provide the flexibility and control that Ilegal Mezcal sought.
We proposed a build in WordPress, because doing so would give Ilegal the ability to build templates across their densely populated site, and could accommodate their needs across several major categories: events, showcasing products, video integration, and a simple, elegant shop for their merchandise, with links to purchase mezcal on partner retailers.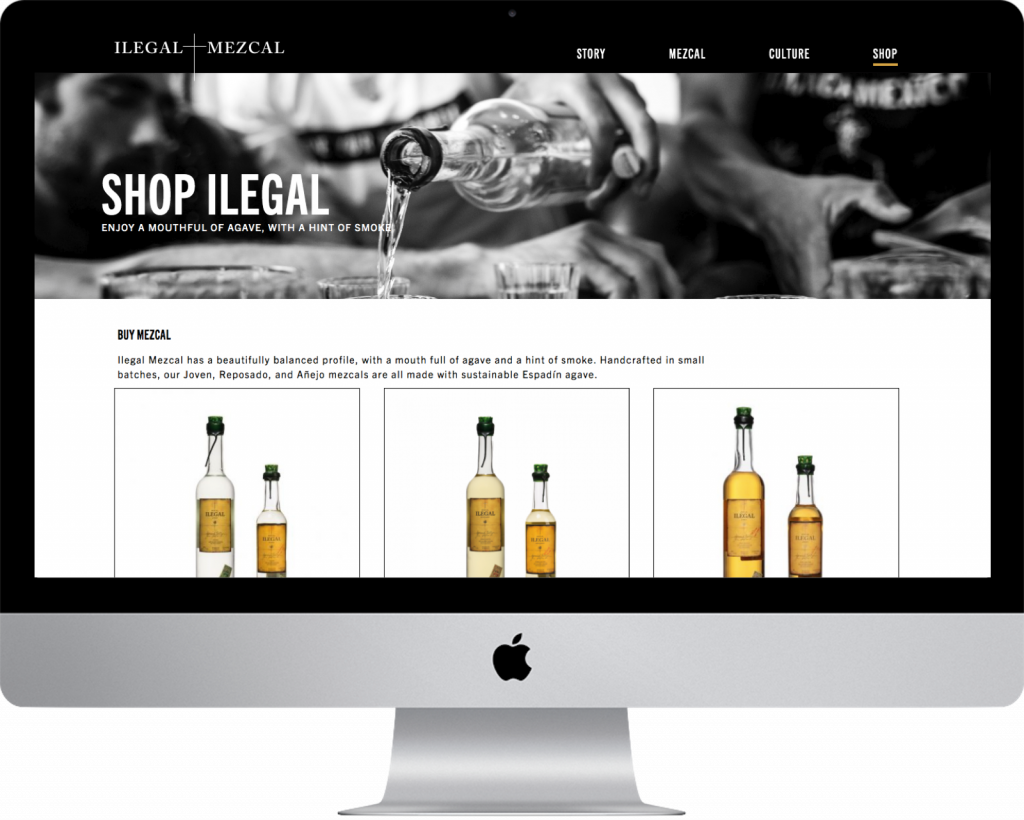 In 2020, we saw the possibility of selling mezcal directly from the website's shop, by setting up integrations with a spirits fulfillment partner, payment gateway, and Shipstation. We launched our brand new mezcal and merchandise shop in November, and Ilegal Mezcal is now the only mezcal brand to sell their product directly from their website.
This fully custom system allows Ilegal to sell its merchandise, created in Printful, and its mezcal, in a single transaction. In 2021, we added a gifting option which enables customers to buy multiple bottles of mezcal in one transaction, and ship them to multiple shipping addresses. This has been a particularly useful function for corporate gifting, and we have seen a single order ship to upwards of 100 addresses.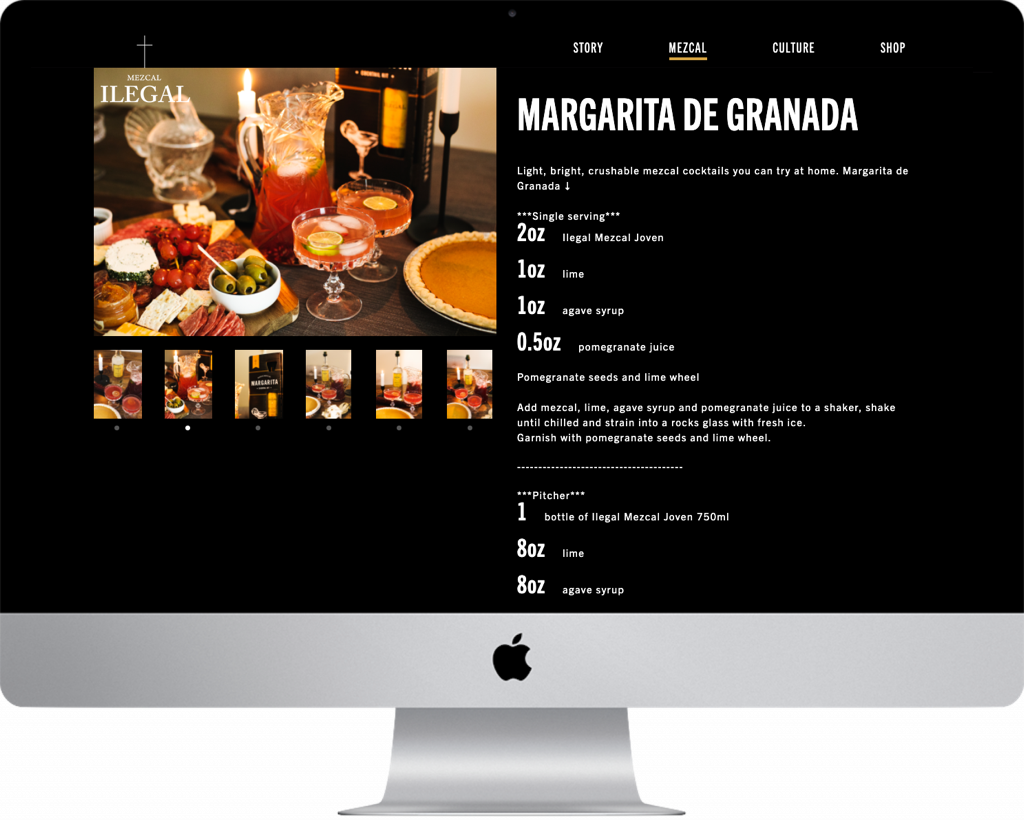 Mezcal Cocktails and More
In 2021, we began to expand the content of the site to find space for Ilegal's many areas of expertise and interest. We launched and managed a blog called Ilegal Activity, we began work on a Spanish language version of the site, and we built a new Mezcal Cocktails page.
Inspired by the NY Times Cooking App, the Ilegal Cocktails page features recipes, videos, and galleries of each signature cocktail, as well as tags to help you discover the mezcal cocktails you can make with what you have at home.