Website Redesign and Custom Quiz Build for
Momotaro Apotheca
Momotaro Apotheca is a sexual wellness brand that has created a certified organic and cruelty-free products to support the body's natural ability to heal. Their proactive plant-based products work gently yet effectively to systemically address symptoms associated with common vulvovaginal issues stemming from infection and general irritation without interfering with pH balance, hormones, pheromones, or medication.
Unable to find a safe, effective over-the-counter product that wasn't full of harsh chemicals or offensive language that often did more harm than healing, co-founders Lindsay Wynn and Taylor Samuelsen set out to create simple solutions for vulvovaginal self care. The consequence of that curiosity is an accessible and discrete suite of products gentle enough to be used on every body, every day.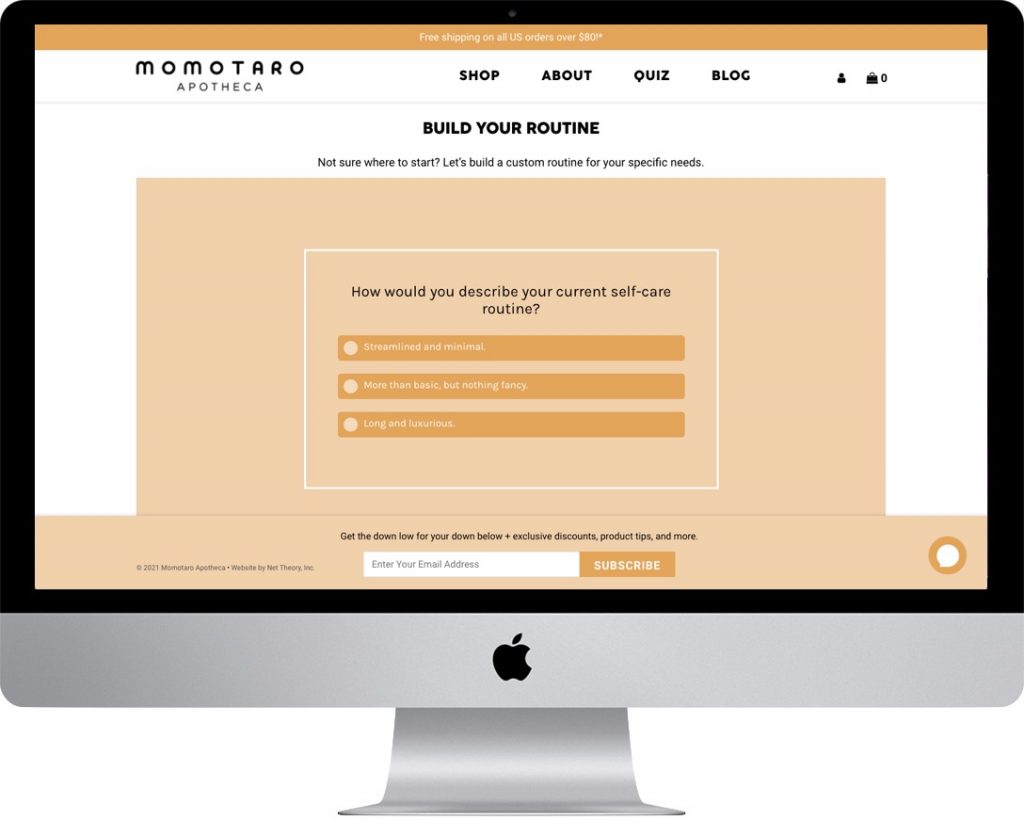 Momotaro's products stand out from the competition, because they address the source problems, rather than offer temporarily relief. As their line has grown in the past year, Momotaro sought to build a custom quiz, to help visitors find the best product for their specific set of issues.
Momotaro reached out to us, because they were aware of our experience building a custom educational gaming app for our client LLV. We discussed the needs of the project, and found a partner in RevenueHunt to create a quiz that could both handle the complex conditional logic of our specific quiz, and be customized to share the same look-and-feel as the rest of the site.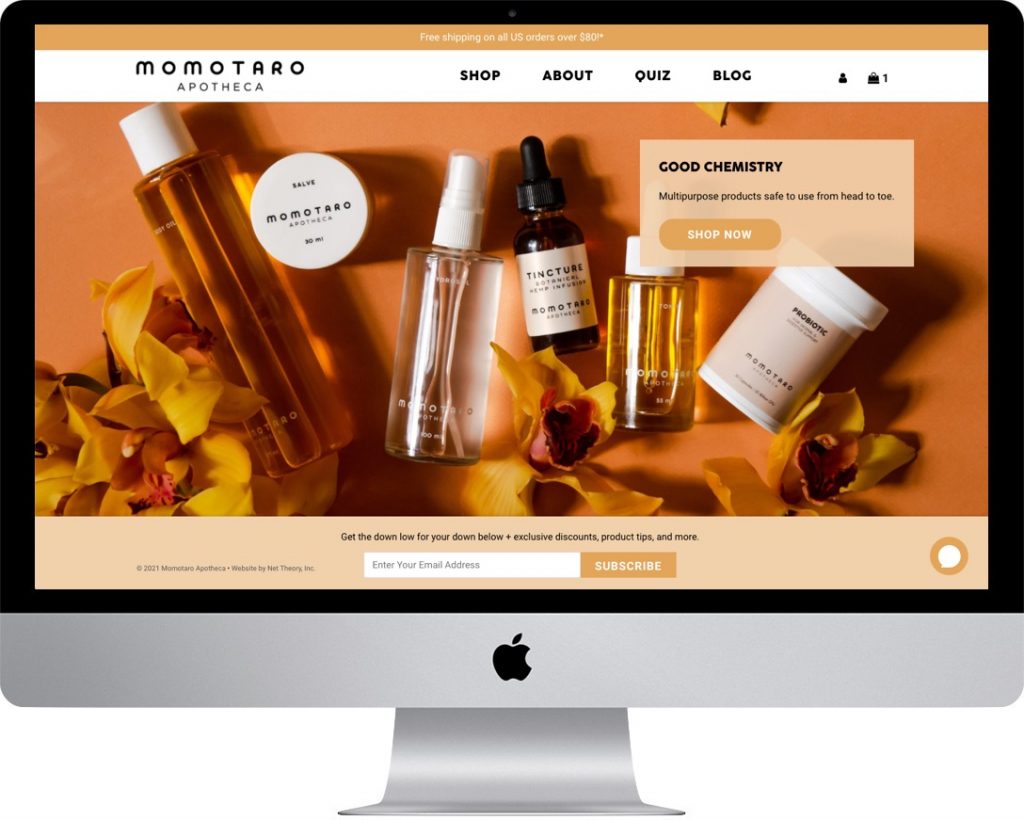 Writing and organizing the content was a collaborative effort between our teams, and Momotaro provided original graphic illustrations. We topped it off with a custom responsive design, a personalized results page, and integrations with email, social, and most importantly, the shopping cart – recommended products can be added directly from the quiz result page.
The quiz returned immediate results — an 80% completion rate returned hundreds of new carts, with an average amount of $51.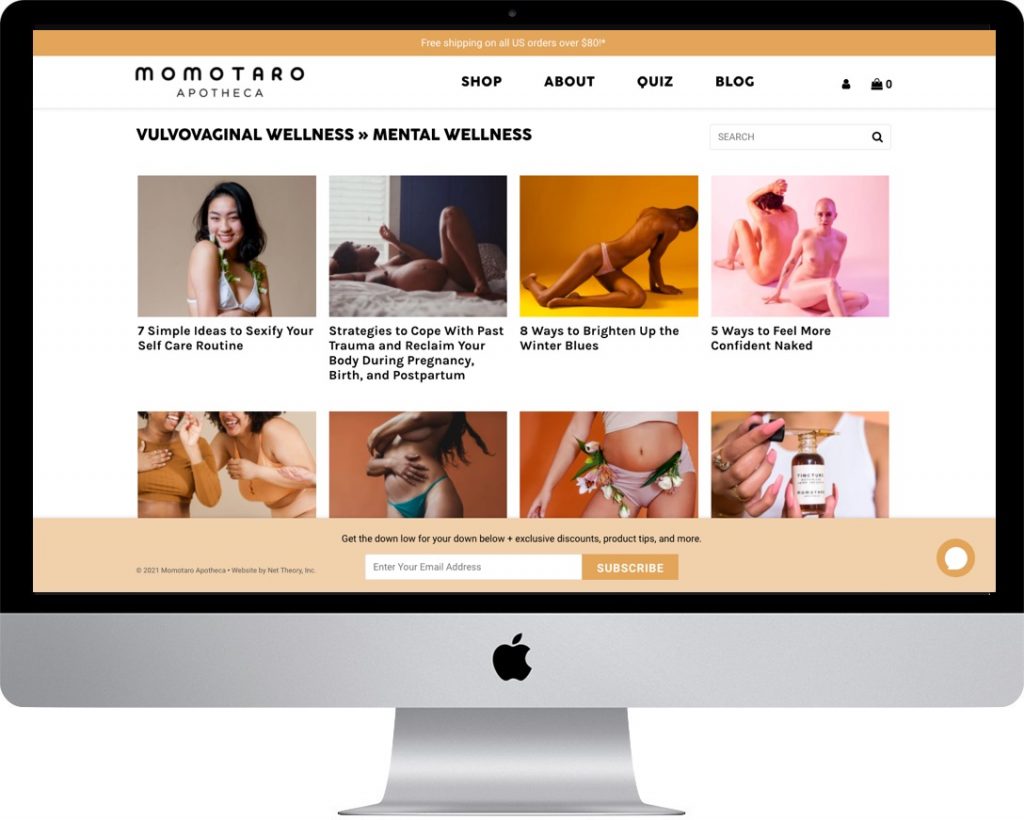 Our Continued Partnership
After a successful quiz launch, we began to discuss a full site redesign. The goals of the project were:
Make the website and eCommerce experience feel more like an extension of the brand (as their branding and packaging are beautiful)
Clean up the core formatting and SEO content
Update their blog, which has become a popular resource for sexual wellness, with professional touches and a robust search
Cultivate a new color scheme, look-and-feel, and user experience that feels elevated yet playful, including on the newly-launched Quiz
Our design launched in May 2021, and we could not be more thrilled with the improved design and functionality.