E-Commerce & Restaurant Websites for
Caviar Russe
Caviar Russe is the largest importer of caviar to the United States. Their restaurant on Madison Avenue in New York has received a Michelin Star seven years running, and they recently opened a beautiful restaurant in the Four Seasons Tower in Miami.
In 2009, Caviar Russe engaged Net Theory to help them grow their brand online, by producing two new websites, one for online retail and another for their restaurants. The eCommerce and marketing sites we crafted are unique yet present a unified brand.
We produced a brand new custom web design, code base, eCommerce system, and site architecture. The site is bright and polished, emphasizing the brand's luxury appeal.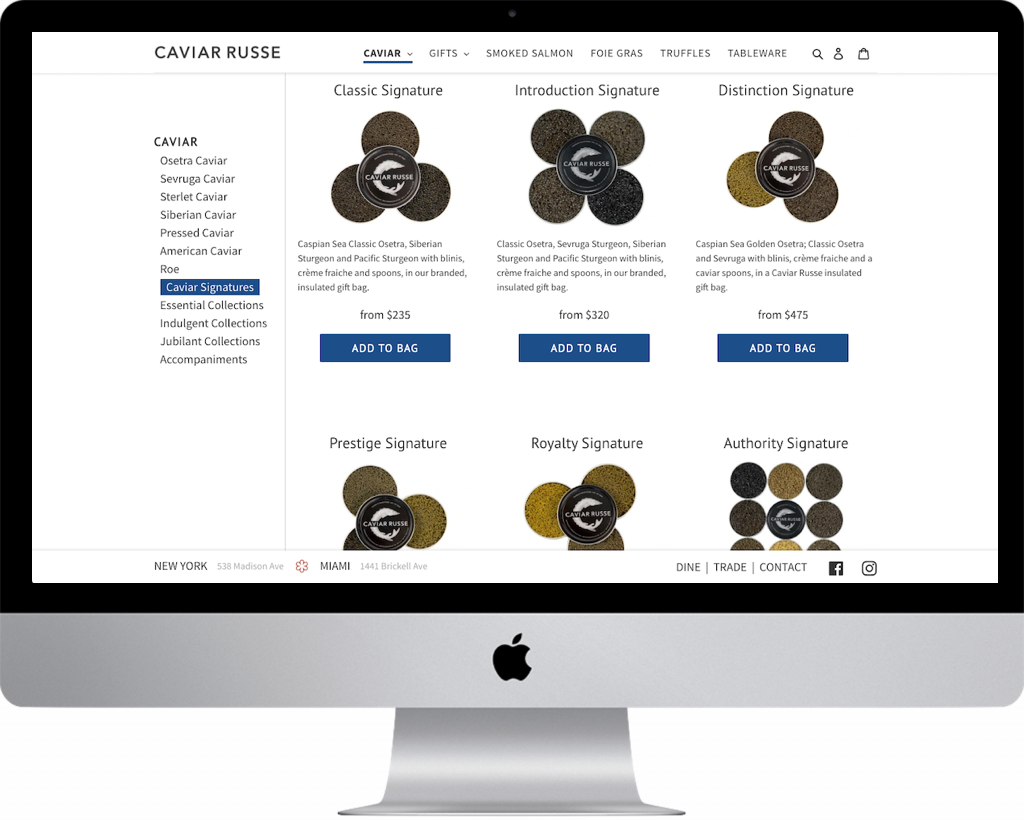 Our updates to the design and checkout functionality, along with a complete mobile optimization, thoughtful Search Engine Optimization (SEO), email campaigns, and marketing strategies, have produced stunning results: From 2015 – 2019, total sales increased an average of 75% per year, and the number of annual transactions increased seven times.
This project included building a robust back-end system for the e-commerce store, which runs their entire online business operation and allows for rapid, bulk order fulfillment.
With an equal number of orders placed on mobile devices as on desktop, Caviar Russe is a true representation of modern eCommerce, and easily the best online shop for caviar in the world.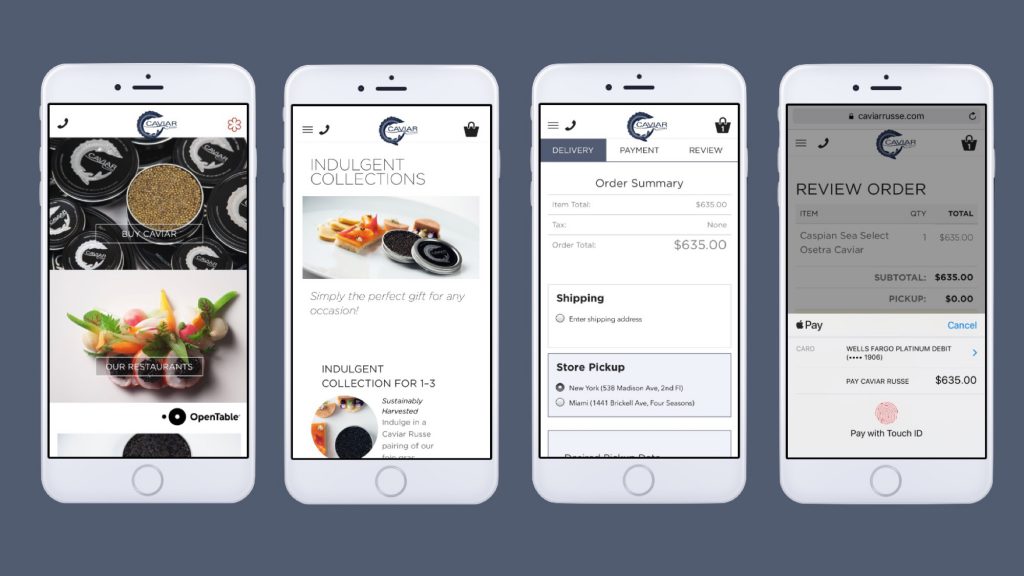 In 2021, after the custom Spree site was pushed to its limits with a record-shattering year of online sales, we worked with Caviar Russe to plan a major migration of the entire site to Shopify Plus. We understood that moving to Shopify, the eCommerce industry leader, was the best path forward for this highly-customized, well-trafficked site.
Our team sought to make significant front end design and functionality improvements, and utilized lots of custom code and Shopify apps to achieve our desired look-and-feel. We made crucial updates to the Shopify checkout, largely thought to be uncustomizable, which allowed features such as Desired Delivery Date to remain.
Fulfillment and POS Integration
Another major challenge for this site, which in previous years was able to successfully respond to huge spikes in sales during the holiday season, was creating communication with a fulfillment partner that would allow proper organization of pickup, local delivery, and FedEx shipping orders, bulk printing for shipping labels, packing slips, and warehouse picklists. We chose Shipstation, another industry leader, as our partner, and began work on a custom API that would ensure the full communication cycle would be complete between the two systems.
We also integrated Shopify POS with Shipstation, allowing the Caviar Russe team to easily create shippable orders right from their in-store POS devices. These fulfillment changes were massive and forward-thinking, and have helped Caviar Russe gear up for another busy holiday season and beyond.